Now, admittedly the phrase "coat rack" doesn't really get me jumping out of my seat. Hooks are something you can find in almost every house, office, or apartment, but not something we pay any particular attention to. Well, believe it or not, hooks can be a great way to add some pizzazz to any space in a subtle, but unique way. Don't believe me? Check out these incredible designs and see which one best fits your style!
1. Peaks Coat Rack
This innovative design from j-me combines style and practicality. The Peaks Coat Rack has a free flowing form which can be used to hang coats, scarves, or bags and also has a discreet shelf area perfect for storing smaller items. Check it out on Amazon!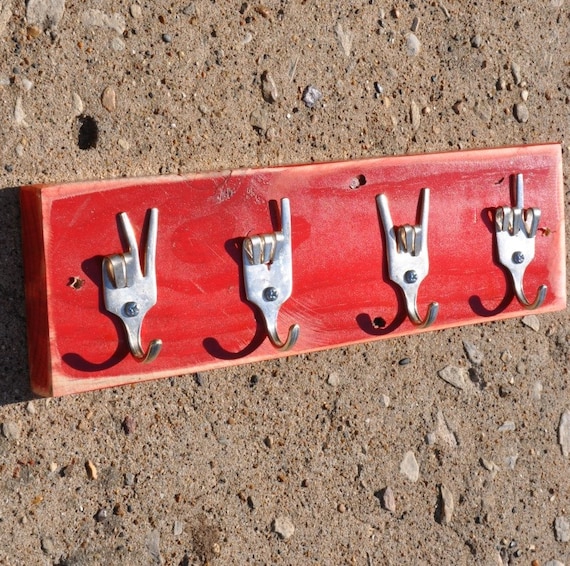 2. Silver Fork Hand Gesture Hooks
If you like to incorporate a sense of humor into your décor, these funky coat hooks from Etsy are right up your alley! They are actually made out of recycled forks shaped to be hilarious hand gestures. See this design on Etsy!
3. Paper Clip Cloat Hook
Working 9 to 5 in an office is not typically very exciting. But, the giant paper clip hook is sure to make you smile every morning when you hang your coat or bag on it! This 11 inch hook is a sturdy, fun accent for your workspace. Get it on X Cart!
4. Movella Coat Hook
This colorful coat hook is practically a toy! The hooks move around the picture making it both a useful and fun addition to a child's room! See it on Houzz!
5. Monkey Door Hanger Hooks
Here's another fun idea for a kid's room! These monkeys hook over your door, so you don't have to worry about making holes in the wall. The pack of three comes in silver, black, or brown to accent any colored room. Check them out on Find Gift!
6. Skyline Multi Hook
Don't have an impeccable view of a city skyline out your window? Don't worry, the Skyline Coat Rack is designed to look like a window on a wall! Discreet hooks flip down so it just looks like a unique
wall decoration when you're not using it for coats. This design available at Convenient Gadgets & Gifts!
7. Mountain Range Coat Hook
Wouldn't it be nice to have a view of snow-capped mountains out your window? This beautiful wooden coat rack is as close as most of us will get! It's made of a combination of walnut and maple and is a perfect accent piece for a cabin! Check it out at Brave Space Design!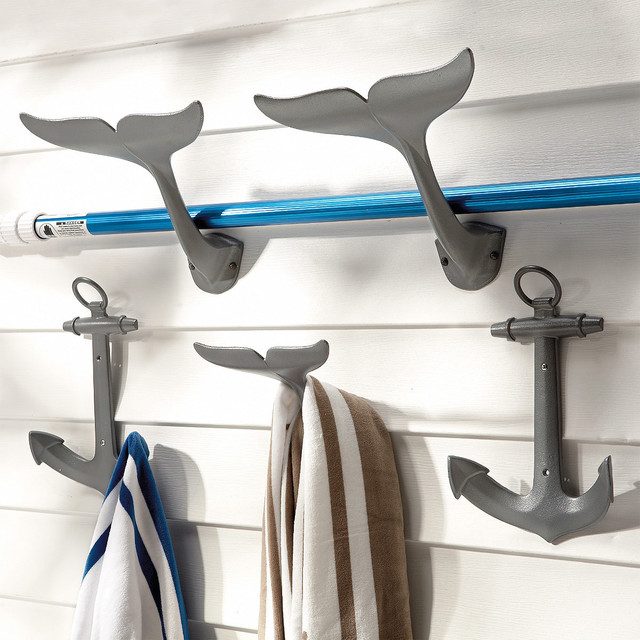 8. Anchor Hooks
or a home on the beach or a lake, what better way to hang your towels, goggles, and swimsuits than with this anchor shaped hook? It's made of powder-coated cast aluminum so it won't rust making it a stylish place to hang wet garments! Get it at Front Gate!
9. Wave Coat Rack
The Wave Coat Rack, by j-me,  looks like a piece of modern art, but is actually a functional, space-saving way to hang your coats, hats, bags, and scarves. Get this design from Amazon!
10. Industrial Clamp Coat Rack
If your style is industrial, and eclectic, this design will made any space a little edgier.  These hooks made from recycled industrial clamps and reclaimed wood will definitely be a conversation piece in your home! Buy them from Houzz!
Morgan Neal
The Awesome Expert
OhMyThatsAwesome.com